Posted on September 22, 2008
Filed Under Dramanomics |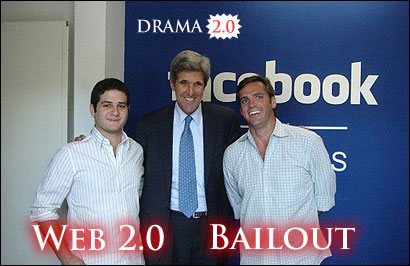 Now that the United States government has proven that it's the greatest fool and Americans would have to be dumb, deaf and blind to not recognize that they officially live in a socialist economy, I thought it'd be worthwhile to ensure that Web 2.0 throws its hat into the bailout ring.
My Web 2.0 bailout plan is designed to ensure that the Web 2.0 industry remains fundamentally sound for years to come.
Here are the three components:
A federal-backed investment vehicle which will buy unmonetizable Web 2.0 advertising inventory. Since advertisers aren't willing to buy enough toxic Web 2.0 advertising inventory because of concerns about ROI, the federal government will provide an investment vehicle that Web 2.0 players like Facebook and YouTube can sell their inventory to at a discount.
This will give Web 2.0 the monetization boost it desperately needs. YouTube, for instance, reportedly monetizes less than 5% of its user-generated videos. The government investment vehicle created by my bailout plan, however, will enable it to increase that amount substantially by buying up the unmonetizable inventory (albeit at a discount so that taxpayers feel they got a good deal on an otherwise shitty "asset").


A $25 billion lending facility for startups. Facebook felt the need to take on $100 million in debt for servers earlier this year but most Web 2.0 startups don't have access to that type of capital. We need to make sure that capital is available to them, however, so that they can keep afloat (so that the government investment vehicle above has unsold ad inventory to buy ad infinitum).
My bailout plan's $25 billion lending facility will provide Web 2.0 companies with financing for business operations and capital expenditures. The interest rate will be pegged to the Federal Funds Rate.
The credit extended to these startups by the Federal Reserve will be collateralized by preferred shares of stock in those companies, obviously making this a no-risk proposition for taxpayers.
Special IPO legislation. Venture capitalists are hurting and this is not good for the economy at large because everybody knows that venture capitalists are responsible for funding the great companies of tomorrow that have the potential to spark another bubble in the equity markets.
To address this problem, my bailout plan includes legislation that would require at least 25 Web 2.0 startups go public each year. Startups that take advantage of the Federal Reserve lending facility will be given priority.
The government will pay all the associated fees, Sarbanes-Oxley regulations will be waived for these companies for at least 5 years and there will be a permanent ban on short sales of these companies' shares. To ensure successful debuts, the government will provide liquidity for the IPOs if institutions and individual investors are unwilling to buy enough shares.
Why It Works
My Web 2.0 bailout plan is certain to work because it has been designed using the "Circle Jerk Methodology" that has been used successfully in the financial markets for decades:
Web 2.0 startups are given a means to monetize by selling otherwise unmonetizable ad inventory to the government.
The Federal Reserve provides a lending facility to Web 2.0 startups and receives collateral in the form of preferred shares of those startups' stock.
Web 2.0 startups are encouraged to take advantage of the lending facility because it gives them priority in going public as part of the special IPO legislation.
By ensuring "monetizability," the availability of cheap capital and successful IPOs, the government and taxpayers never have anything to worry about and confidence in Web 2.0 startups is never questioned, meaning that Sand Hill Road, Wall Street and Main Street all come out ahead.
Last week, I spent several days discussing my plan with Alan Greenspan and a number of prominent economists and the consensus was quite simply: "this looks good" and "there is very little risk to all parties the way you've structured this."
Call Your Congressman!
In an effort to see that my bailout plan is handled expeditiously and that the United States Congress understands just how important it is that the Web 2.0 industry finds relief in today's brutal markets, I have tapped into the political network I have spent years developing through the ownership of businesses that service politicians in very discreet ways.
As you can see in the photo above, John Kerry has already met with Facebook executives. Although he was initially skeptical of my plan and found Mark Zuckerberg to be "an odd young man," after spending time with some of the potential victims of a Facebook failure, as seen below, he has formed a hardened stance: Web 2.0 is simply too big to fail.

I have high hopes that Web 2.0 will be saved and implore my American readers to contact their elected officials to ensure that this important industry doesn't slip through the cracks during the Great Socialist Revolution of 2008.
May god bless you, and may god continue to bless Web 2.0.



 Print This Post
Comments