Posted on September 24, 2008
Filed Under Web 2.0 Kool Aid | 1 Comment
I recently called Tim O'Reilly out for the comments he made during his keynote at the Web 2.0 Expo which were in direct conflict with his past hype promulgation.
I took the time to watch O'Reilly's keynote earlier and had to cover my nose - it's a mix of revisionist history, backtracking, fearmongering, greenwashing and political propaganda.
From calling Dell's just-in-time inventory strategy an example of the "collective intelligence" concept he thinks Web 2.0 stands for to discussing all of the problems that exist in the world today, O'Reilly covers a lot of ground as he tries to add substance to a conference that has historically been about fluff.
Posted on September 23, 2008
Filed Under Web 2.0 Kool Aid | 4 Comments
In "Once You're Lucky, Twice You're Good," Sarah Lacy of , SXSW and infamy describes the "rise" of Web 2.0.
But now that even Tim O'Reilly recognizes that the hole in the hull of the Titanic is pretty damn bad, he's jumping ship.
So I have a suggestion for Lacy's next book: "Once You're Dumb, Twice You're Dumber: How eBay Wasted Billions on Web 2.0."
eBay's desire to sell peer-to-peer VOIP company Skype, which it purchased for $2.6 billion in 2005, . It has more than $1 billion of that purchase as Skype has failed to live up to expectations.
Posted on September 22, 2008
Filed Under The Scoble Experiment | 1 Comment
I have developed a slight rash on my back. My doctors tell me that this reaction is typical within the to the Twitter toxin.
The rash is well worth it, however, as I have already made an important discovery via Twitter: the reason why Web 2.0 doesn't make any money.
The vast majority of the people involved with Web 2.0 on Twitter who I am "following" seem to be spending more time at conferences and other such useless events than they do actually working. I have seen no shortage of tweets from "industry folk" discussing conferences and events that I never even knew existed and could not imagine anyone would ever find it necessary to attend.
Posted on September 22, 2008
Filed Under Dramanomics | 4 Comments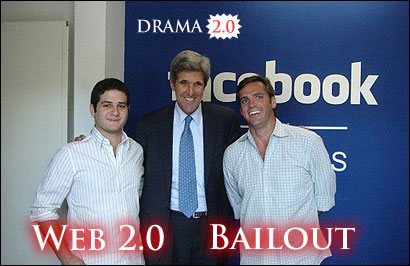 Now that the United States government has proven that it's the greatest fool and Americans would have to be dumb, deaf and blind to not recognize that they officially live in a socialist economy, I thought it'd be worthwhile to ensure that Web 2.0 throws its hat into the bailout ring.
My Web 2.0 bailout plan is designed to ensure that the Web 2.0 industry remains fundamentally sound for years to come.
Here are the three components:
Posted on September 19, 2008
Filed Under Web 2.0 Kool Aid | 9 Comments
When Tim O'Reilly decided that the Web 2.0 Summit in San Francisco in November was not going to be about Web 2.0, I stated:
The obvious truth is that even the organizers of the Web 2.0 Summit have realized how marginal Web 2.0 is and ostensibly didn't feel confident that they could find enough fluff for 2008's Web 2.0 Summit to deliver the type of hype paying attendees deserve to receive.
I noted that O'Reilly's blog post explaining the Web 2.0-free Web 2.0 Summit essentially stated "the people involved with Web 2.0 have rediscovered the real world" and that "Web 2.0 is old news and the 'smart stupid money' has moved on."
Posted on September 18, 2008
Filed Under Commercial Interruptions | Leave a Comment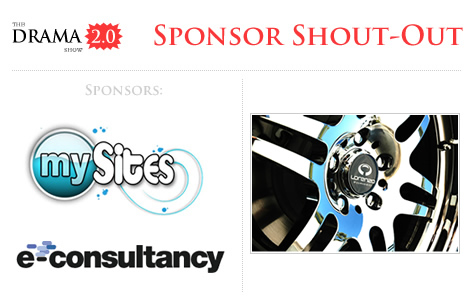 Last month I decided to buy my daily driver some new shoes in preparation for the upcoming summer - Lorenzo WL13 22″ chrome rims with Pirelli PZero Nero tires. Thanks to my fine sponsors, only ~50% of the cost was out-of-pocket.
Finnish startup bills itself as a "single place for all your online needs" where "you can create and customize a website, save and share any media, decide who can view it, embed anywhere, and use any device." The company has been throwing that appear to have copious amounts of alcohol involved.
Posted on September 18, 2008
Filed Under The Scoble Experiment | 6 Comments

Thanks to a generous grant from the Richard S. Fuld, Jr. Foundation for the Perpetually Fucked, I am pleased to announce the launch of The Scoble Experiment.
The purpose of The Scoble Experiment is simple: test the human limits of exposure to the social toxin known as Twitter.
In doing so, it is my hope that we can discover a cure that will enable Robert Scoble to reverse the debilitating mental and physical effects that Twitter has had on him so that he can regain some semblance of a normal social life.
Posted on September 17, 2008
Filed Under Dramanomics | Leave a Comment
In a week that has seen the failure of Lehman Brothers, the sale of Merrill Lynch to Bank of America, an $85 billion US government bailout of AIG and the greatest one-day , I thought it'd be worthwhile to remind loyal readers of The Drama 2.0 Show that while kool aid drinkers were , yours truly knew what was up.
Here's a montage of past Drama 2.0 Show posts and comments celebrating a week of wealth transfer from pigs to hogs.
Stanley: you do realize that technically the United States government is bankrupt, right? It's paying its bills with money it borrows.
Posted on September 17, 2008
Filed Under Web 2.0 Kool Aid | 2 Comments
The global economy is in the shitter. VCs have moved on to sexier markets. Drama 2.0's hobbyist blogging activities earn him more profit in a year than your funded startup has generated in the past 2 years. There are 20 competitors in your market and 18 of them are already headed to the deadpool.
The writing is on the wall: your Web 2.0 dream is going to turn into a nightmare real quick. Metaphorically speaking, the nightclub is about to close and the only women who haven't already gone home with somebody look about as attractive as a female version of Marc Canter despite the fact that you've had about 10 servings of Jack Daniels, 5 of Jäger and can barely even tweet the words, "I'm fucked up."
Posted on September 16, 2008
Filed Under Unjournalism | 4 Comments
Disclosing conflicts of interest is standard practice for professional journalists. And it has been a real problem for bloggers (amongst other things).
Yet that GigaOm founder Om Malik has become a venture partner at venture capital firm True Ventures has made it quite clear: disclosure is increasingly meaningless in the blogosphere.
As part of its his post on Om's new job, the New York Times' Claire Cain Miller spoke with Lee Wilkins, a professor at the Missouri School of Journalism who edits the Journal of Mass Media Ethics. He observed that Om's promise to be disclosure conflicts is almost entirely irrelevant:
keep looking »